Companion Animal Clinic of Augusta, ME
A Long History of Veterinary Care for Small Animals
First established in 1966, Companion Animal Clinic has been serving the veterinary needs of small animals under its current owners since 1998. Our caring, compassionate, and well-trained veterinarians, Drs. Scott and Penny Bennington, have extensive experience providing preventive care and treatment for your pets. Our wide variety of services includes the following. We currently are able to accept new clients on a limited basis.
Routine Veterinary Medical Services
Sick Care
High-Quality Prescription Nutrition
Professional Veterinary Products
Internal Medicine
Vaccinations
Soft Tissue Surgery
Orthopedic Surgery
Behavioral Consultations
Dentistry
Ultrasound
Parasite, Flea, & Tick Control
Spay, Neuter, & Declaw
Geriatric Anesthesia
Wellness Care
And More
The COVID emergency is over, but COVID and other respiratory diseases remain a risk to our staff.  In order to remain  available to help you and your pets, we continue to operate on a curbside basis:
1.Please do not enter the building without permission.  In some cases (euthanasia, for example) we will allow you to enter.  We request a maximum of two family members in the building at a time, and we require a face mask to enter; exceptions to the two-person rule are possible.
2. For scheduled appointments, please stay in your vehicle and call us when you arrive.  If you don't have a cell phone you can come to the side or front door and knock so that we know you're here.  We'll come out and get your pet when a doctor and/or assistant is available.  With most appointments we'll bring out a clinic iPad to allow you to participate directly in your pet's visit.
3. If you need to pick up medication or food, please call ahead so that we can have it ready when you arrive.  We can then bring your item(s) to the door or to your vehicle.
4. If you have any COVID symptoms or are positive for COVID and your pet needs care, please make every effort to have a family member bring your pet to the clinic for you.  The CDC recommends that you minimize contact with your pet if you have COVID symptoms.
5. We accept cash, checks, and credit cards for payment.  We can process credit card payments without a signature, either by bringing the card inside or over the phone.  In addition, we can provide email receipts rather than physical copies if we have your email address.  Receipts can be re-transmitted or re-printed as needed in the future.
Because we're physically moving in and out of the building and can be extremely busy, there may be times when we're slow to answer the phone; you can either leave a message or wait a few minutes and call back.  Please bear with us and remember we're doing all of this to keep everyone as safe as possible.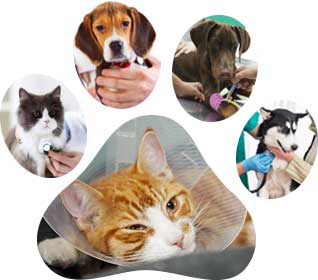 Veterinary Internal Medicine
Dr. Penny is responsible for most of the medical cases at Companion Animal Clinic. As long as she's been a veterinarian, proper education of pet owners has driven her efforts. In any situation, she'll do her best to make sure you understand what's going on with your pet, what to expect, and how best to manage or treat any illness she may diagnose. Learn more about Dr. Penny by clicking the link below or by giving us a call today.
Veterinary Surgery and Anesthesia
Dr. Scott performs the surgeries at Companion Animal Clinic. He has experience with a wide variety of procedures, both soft tissue and orthopedic. He also has a long history of working with older pets that require anesthesia and may be at a higher risk or have underlying health problems. His interest in cardiology is tied in part to safely managing anesthesia in these older patients.
The Philosophy of Our Veterinary Practice: Top Quality
Realizing the importance of animals in people's lives, the Benningtons believe in offering the best medicine and surgery available to their clients with pets. In addition to their formal schooling, they are both lifelong pet owners and have been directly involved with veterinary medicine since high school. They regularly attend continuing education classes and meetings to keep up with the latest developments. They share this knowledge with their staff and maintain an array of lab equipment to allow top-quality diagnostics. For difficult cases, they have access to a network of regional and nationwide veterinary specialists.
Contact Companion Animal Clinic
To learn more about our professional veterinary services, schedule a routine appointment or surgery, or obtain emergency medical treatment. Give us a call today for more information.